I've always loved making bathrooms shiny!
When I was little I pretended to host my own cleaning show. I told audience members how to really get your faucets to shine. :) Haha.
If you deep clean your house this spring please don't neglect baseboards, the tops and sides of door jambs, light plate switches, overhead fans (in bathrooms especially), refrigerator doors + handles, and around doorknobs. People often forget those areas and they can look nasty. Thank you.
Here are some cleaning digs I recommend:
Microfiber mitts or cloths (the kind with opposable thumbs are nice). Get one and you might forget to hate dusting. They pick up more than swiffers and don't snag on rough corners. After microfiber looks full of dust you can beat it outside to get off the excess nd keep dusting, or you can always wash it. Keep one in your glove compartment and your dashboard will always look spiffy!
Rubber gloves. Not only will your hands stay out of the muck, they won't absorb nasty chemicals either. I used to hate it when my hands smelled like bleach all day after I cleaned, but now they don't smell anymore!
Old toothbrushes + toothpicks. Especially in bathrooms and kitchens, dust combines with liquid-- water, grease, hairspray, etc-- and settles into every groove imaginable. I use old toothbrushes and toothpicks to remove it. The dials on your stove, the outside rim of your sink, the runners of sliding glass doors, that tiny space between your vanity mirror and its frame-- I dare you to pick at that gunk with a toothpick. They're also great to use on drains, spigots, and other tight spaces.
Click to read about my take on chemicals and products:
Chemicals: full of toxins, harsh on surfaces, often unnecessary, but still required for a few stubborn jobs.
I believe in using chemicals. Don't throw them out. However! Harsh chemicals can weaken, fade, or damage your surfaces, especially paint. Take baseboards for example-- all you really need is some baking soda and hot water (highly recommend a toothbrush for the creases and the top groove!) to get caked on dust/grime off. Anything stronger just puts fumes into your air and damages your paint.
Some do a lot of cleaning with vinegar, but I can't stand the smell so I'd never consider it.
Chemical rule of thumb: Always pick the most gentle cleaner you can to do the job.
Rachel's favorite cleaners:
Bar Keeper's Friend Liquid. Gentle, but powerful. Nothing cleans my stovetop or sinks better.
Lime Away. I love LimeAway toilet bowl cleanser, shower cleaner, and the usual type as well. Saves my life! Hard water stains and rust abound in my old '40's home, and with Utah's hard water it's the only thing that'll work.
Murphy's Oil Soap. I keep some pre-diluted in a spray bottle. It's designed for wood, so I use it on my kitchen table, but I use it on my cabinets and linoleum too. Gentle with chemicals, but strong on clean. Smells nice.
Cinch. It never streaks! Best glass cleaner EVER, but often hard to find. When I can't find it, Windex w/vinegar works too.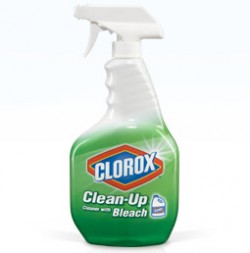 Clorox Clean-Up. For when you really do need that bleach whitening/disinfecting/magic. Just go easy on it, it's the worst with toxic fumes.
I'd love to hear your cleaning tips and secrets. Care to share?